Airpods 3rd Generation – Vietnam
In Stock
The Apple AirPods (3rd generation) seems to one-up the AirPods (2nd generation) in just about every way. The third-generation AirPods has an IPX4 rating, MagSafe charging case, and supports features like spatial audio. However, even with all these new goodies, it retains the worst feature of the AirPods (2nd gen): an unsealed fit. You may be tempted to get the AirPods (3rd gen), but newer isn't always better. In fact, you might just be better off with something else altogether.
Design
With the AirPods 3, Apple introduced the first new design for the wire-free earbuds since their 2016 debut. The AirPods have shorter stems like the AirPods Pro, and a new, contoured earpiece.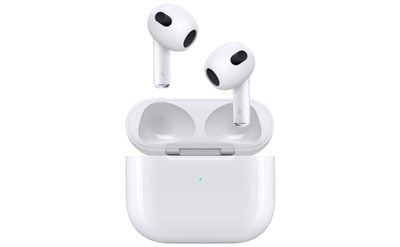 Apple says that the AirPods have been designed to be lightweight and to sit at just the right angle in the ear for comfort and the best audio experience. Unlike the AirPods Pro, the AirPods do not have silicone tips and are instead tipless like the original AirPods.
The shorter stem of the AirPods gives them a more subtle look in the ears, similar to the AirPods Pro. There is a mesh material covering the earpiece, and a mesh-covered cutout for breathability.
As with prior AirPods, the new model is made from a white plastic material with a small bit of silver at the base, along with L and R labeling.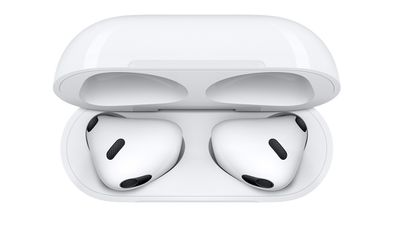 The new AirPods measure in at 1.21 inches tall, 0.72 inches wide, and 0.76 inches deep, compared to 1.59 inches tall, 0.65 inches wide, and 0.71 inches deep for the prior-generation model. They're just about the same length as the AirPods Pro, but aren't quite as wide.
Water Resistance
The AirPods 3 have an IPX4 water resistance rating and are able to hold up to sweat and light rain, but they should not be submerged or subjected to heavy amounts of liquid. The MagSafe Charging Case has the same IPX4 water resistance rating.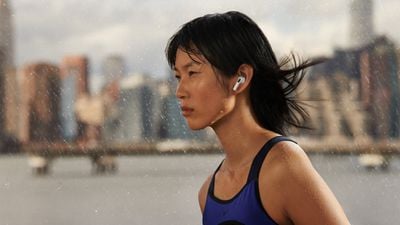 Apple's warranty does not cover liquid damage, so it's always best to use caution around water and other substances.
Force Sensor
There is a force sensor built into the stem of the AirPods, which is also an AirPods Pro feature. With the force sensor, a single press, double press, or triple press can be used for media playback.
A single press will play or pause audio, a double press will skip forward, and a triple press will skip backward. Pressing on the AirPods stem can answer an incoming call, and hanging up can be done with a double press. A press and hold activates Siri.
Internal Hardware
The AirPods are equipped with a custom high-excursion driver and a high dynamic range amplifier that work together to deliver powerful bass with clean high frequencies. Apple also uses these technologies in the AirPods Pro.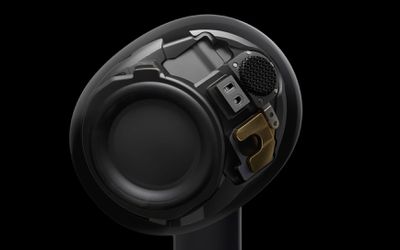 Dual beamforming mesh-covered microphones cut down on the sound of the wind and ambient noise to ensure your voice sounds clear to the person on the other end of the call, and support for AAC-ELD offers full HD voice quality for FaceTime calls.
H1 Chip
The AirPods 3 are equipped with the same H1 chip that's been used in prior-generation versions of the AirPods. The H1 chip powers one-touch pairing with Apple devices and quick device switching, plus it supports features like Audio Sharing so two pairs of AirPods can be connected to an iPhone, iPad, iPod touch, or Apple TV.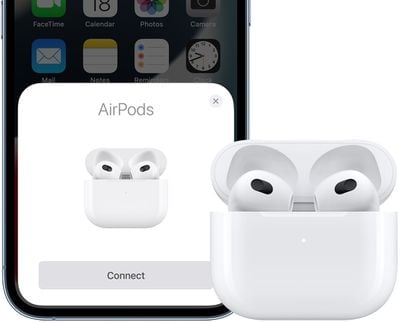 Quick device switching works on all devices that are signed into the same iCloud account, and with automatic device switching enabled, the AirPods will automatically switch between iPhone, iPad, Mac, and Apple Watch as you use them with no need to access Bluetooth controls to swap devices.
Apple's H1 chip also boosts the Bluetooth 5.0 connection with increased range. Many of the AirPods features are limited to Apple devices, but AirPods can be connected to any device over Bluetooth.
Skin-Detect Sensor
Apple added a new skin-detect sensor to the AirPods that's designed to determine whether the AirPods are in the ear versus in a pocket or on a table, with playback pausing when the AirPods are removed from the ear.
Sound Quality
To improve sound quality by taking into account the shape of each person's ear, the AirPods are equipped with an Adaptive EQ feature. Adaptive EQ uses computational audio and an internal microphone pointed toward the ear to ensure a good sound profile for every wearer.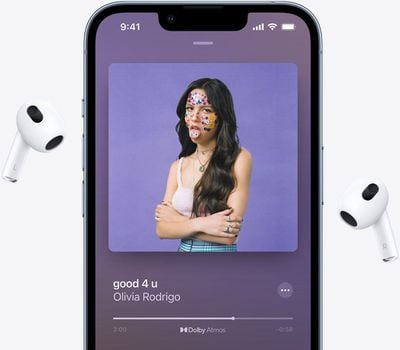 Sound is tuned in real time based on the fit of the AirPod in the user's ear, with the AirPods constantly adjusting and tuning the low and mid frequencies to account for what might be lost due to fit differences.
Spatial Audio
The AirPods 3 join the AirPods Pro and AirPods Pro Max in offering spatial audio featuring Dolby Atmos. Apple Music songs, TV shows, and movies can take advantage of spatial audio and it will sound like the audio is coming from all around you when the feature is enabled for an immersive, theater-like experience.
Dynamic head tracking is also available, which makes music, TV, and even Group FaceTime calls more engaging. Spatial audio algorithms and directional audio filters adjust the frequencies that each ear receives, allowing AirPods to produce sound all around the user.
Spatial audio works with Apple Music and the Apple TV app, but it is also compatible with many third-party apps.
Siri Support
Volume, song changes, calls, and more can be done with Siri using a "Hey Siri" command, which is enabled through the H1 chip. Siri can also announce incoming notifications in iOS 15, and let you know what text messages say when you receive them.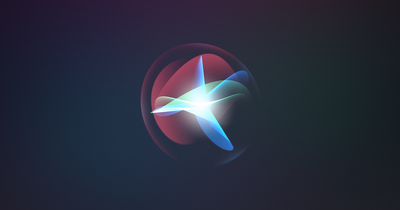 Siri works like it does on any other device, and the voice assistant can answer all manner of questions and perform tasks like adjusting device volume.
Sample Siri Commands
Play some new music
Play my "Favorites" playlist
Skip to the next song
Turn down the volume
Turn up the volume
Call mom
Pause my music
What's the battery life of my AirPods?
What's the temperature outside?
What's the battery of my AirPods?
MagSafe Charging Case
Apple designed a MagSafe Charging Case to go along with the AirPods 3, and it is able to magnetically align with MagSafe chargers. The Prior AirPods 2 with Wireless charging case already worked with MagSafe Chargers because they use the same Qi protocol as other chargers, but now there is the benefit of magnetic alignment.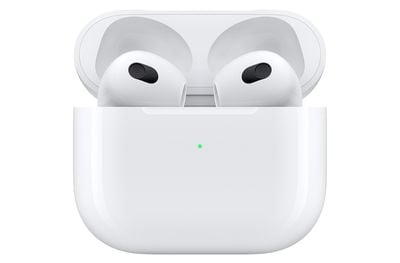 In addition to charging with any MagSafe or Qi charger, the MagSafe Charging Case can also be charged up using a Lightning cable.
The MagSafe Charging Case is wider and shorter than the prior AirPods 2 case, though it is not quite as wide as the AirPods Pro case. It measures in at 1.83 inches tall, 2.14 inches wide, and 0.84 inches deep, and it weighs 1.34 ounces. It is rated IPX4 water-resistant.
Both AirPods fit snugly in the case, and an LED on the front lets you know when they're charging. If the light is orange, charging is ongoing, but if it is green, they're fully charged.
When the AirPods are inside the case, the magnetic lid shuts, keeping them in place when the case is in a pocket or a bag. Opening the lid causes the AirPods to connect to an Apple device or initiate pairing.
Battery Life
Battery life has been boosted in the AirPods 3 and the battery is able to last for up to six hours. Battery life drops to five hours with spatial audio enabled, and for talk time, the AirPods last for up to five hours.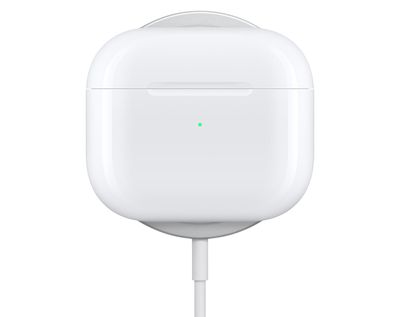 The charging case adds another 24 hours of battery life, for a total of 30 hours of listening time. There's also a fast charge feature that provides an hour of listening time with a five minute charge.
Find My Support
The AirPods 3 are part of the Find My network, which leverages hundreds of millions of iPhone, iPad, and Mac devices around the world to find lost items. If your AirPods become lost, you may be able to find them through the Find My network even if they're not close by.
You can also set up Separation Alerts that let you know right away if your AirPods are found.
Compatibility
AirPods can connect to all iOS devices that are capable of running iOS 13 or later, which includes the iPhone 6s, iPhone SE, iPad mini 4, iPad Air 2, 5th-generation iPad, and later.